MikoChess is another "game design study" I did to learn the basics of game programming (using the Open Source Graphics Engine "Irrlicht3D", the 3D modeller Milkshape3D and other tools). This time, it is a graphical frontend for a chess engine. Yes, still sticking to board games…
Program Features
Play offline chess games against computer opponent
Using the chess engine Abrok 5.0 (UCI protocol)
Using the 3D engine Irrlicht
Windowed mode only. Fixed size 1024×768
Note: The Chess engine's power is rather weak currently, due to massive timing restrictions from the client's side. Don't blame the engine for this.
Program Operation
F1 invokes help text (F1 or esc closes)
Toggle debug window via the help menue
Toggle moves history window via the help menue
Show chess engine info via the help menue
When your move is due, the characters and numbers aside the board are hilighted
Rotate board view by pressing left mouse button and moving the mouse
Move board view by pressing right mouse button and moving the mouse
Zoom in/out by pressing both mouse keys and move the mouse horizontally
Select a field/item by left-clicking on it
Unselect an item by right-clicking
Change to standard views be pressing buttons in the lower left screen corner
Program Rules
http://www.chessvariants.com/d.chess/chess.html
Note: taking en-passant and stale mate not implemented yet. This special situations could cause the game to lock up.
Credits
Irrlicht homepage: http://www.irrlicht3d.org
Milkshape homepage: http://www.milkshape3d.com
Abrok homepage: http://romankorba.homepage.t-online.de
Screenshots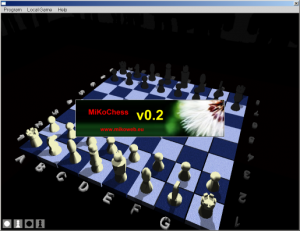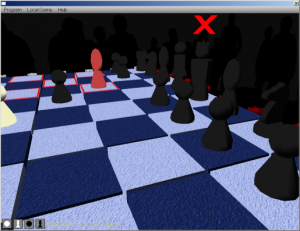 Downloads