The first Regensburg 48h GameJam (organized by GameDev Regensburg e.V.) was held from August, 13 to 15. It took place at the Prüfeninger Schlossgarten – a really nice location.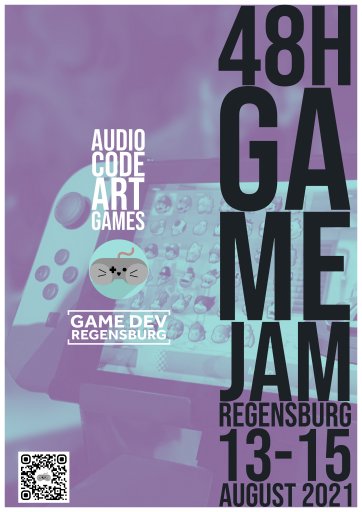 All started on Friday afternoon (theme announcement) and ended Sunday afternoon after project presentations. The given theme was "beat.me" (as a beat festival was happening there on Saturday as well).
This time, I teamed up with talented 2D artist Daria, and we decided to follow one of her ideas and make a small "search & click" game. There, one needs to find sleeping Regensburg inhabitants within a certain time and wake them up by "beating" (clicking, that is).
She did all the cute graphics, while I stuck to programming. We used Unity 2021 and a screen format of 1136×640, suitable for mobile (although exported to WebGL only for now).
The jam was set up as a hybrid event. One could participate on site, remote or mixed. For our project, we met on Friday and Sunday, working from/at home on Saturday. Personally, I like such a split, as it doesn't force me to be on site all the time.
You can play the result ("Sleeper Beat" game) here (about 5MB; German text only):
https://www.mikoweb.eu/unity/SleeperBeat/
I really like what we produced there. The idea could be developed even further, maybe by introducing a city map with different locations to be visited/played and rising difficulty levels (shorter time and more "difficult" pictures).